Automated monitoring tools like Datadog are transforming the way organizations manage and improve their cloud infrastructure. That's because the right reporting tools are enabling enterprises to leverage data for better drive decision-making and business planning, business continuity, and capacity planning.
While we've already covered why real-time telemetry and monitoring are critical for business leaders, it's also essential that organizations use automated reporting as well. Analysing data over a longer period of time can generate unique insights that aren't immediately apparent using real-time metrics.
With that said, let's take a closer look at why long-term reporting is critical for monitoring and how RapDev's Datadog Reporter integration makes reporting easier.
Why Automated Reporting Is Important For Monitoring
When most cloud engineers or SRE's think of monitoring, they think of tracking key metrics in real-time. That's why AIOps—using machine learning to generate insights from real-time data—is seeing massive adoption by enterprise organizations. There are many situations, however, where it's more efficient to track trends over weeks or months using regularly scheduled reporting.
By viewing in-depth reports on a regular basis, engineering teams can identify broad trends that they likely wouldn't get from real-time monitoring. For example, capacity planning requires monitoring network circuits or CPU consumption over a longer period of time, not in real-time. That way, sudden spikes or other temporary abnormalities aren't a driving factor for large-scale infrastructure investments.
Moreover, with automated weekly or monthly reports, enterprises can save time when it comes to compiling, distributing, and reviewing metrics from a variety of on-premise and cloud infrastructure sources. Streamlining the preparation of reports is particularly important for enterprises using a comprehensive monitoring platform like Datadog, which could have dozens of dashboards tracking infrastructure, applications, logs, and more.
RapDev's Datadog Reporter
RapDev recognized that Datadog focused on real-time metrics, so we wanted to expand these capabilities when it comes to sending reports directly from the platform, which is crucial for any advanced monitoring. That's why we've built a Datadog Reporter integration that's available on the Datadog marketplace.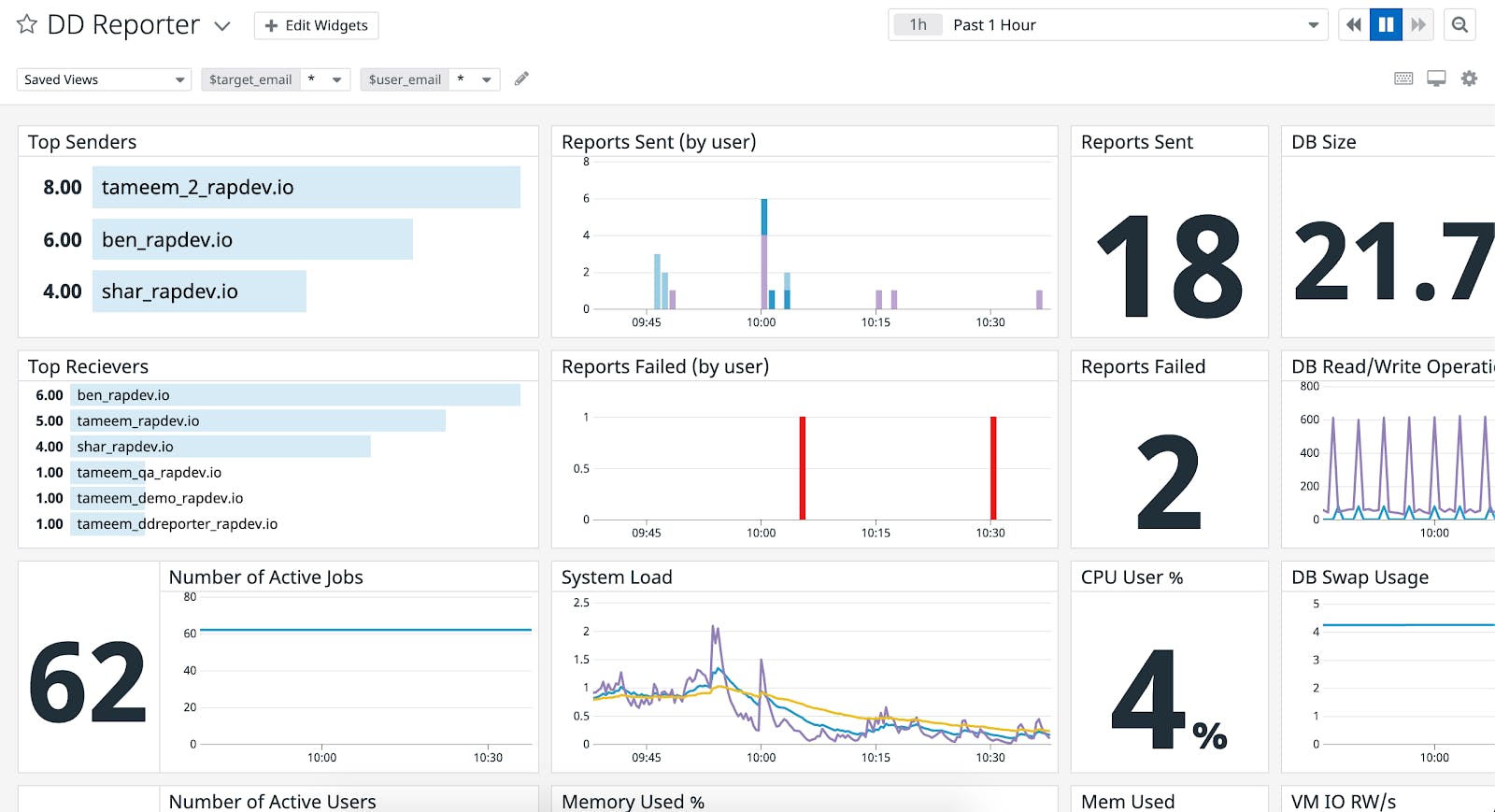 Our integration allows users to automatically capture reports of Datadog dashboards and send them out at any interval to an unlimited group of emails with just a few clicks. Here's a quick breakdown of our automated reporting solution.