On my first day at RapDev, I was greeted with a pair of AirPod pro headphones and backpack of swag at my new desk. I knew from that moment on I made the best decision to work here. It's the little details like this that make first days all that more welcoming. 
This past year, RapDev launched a program for associate positions called "RapDev University". It's an onboarding and training program where they help recent college graduates or junior engineers learn the ins and outs of the company while developing their technical skills. It helps get everyone on the same page before they start working on customer projects. I was so thrilled to be part of their first class because this program is perfect for someone transitioning into the tech field, like me! I transitioned from a nursing/medical background to here so this is my first official tech position *pats self on the back*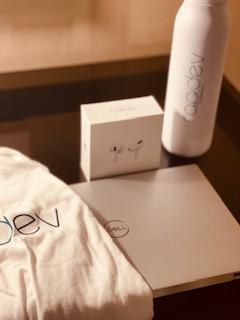 My first month at RapDev University was a great experience. Since I live in New Jersey, I was asked to complete the initial first 3-4 weeks at the RapDev office in Boston. They took care of my transportation and lodging, I couldn't have been more excited; especially since it was going to be my first time in Boston! The first week was mostly onboarding, meeting the team, and learning about who RapDev is and how they work as a company. Next, we had a brief overview of what ServiceNow is, how customers use it and the ServiceNow products that RapDev specializes in (ITOM & DevOps). If you didn't know, RapDev is an Elite ServiceNow Partner specializing in ITOM and DevOps implementations. During the first week, we were treated to a company dinner to get to know the team better and mingle outside of work. 
The second week, I was able to observe what the day-to-day of an engineer looks like and listened to different meetings all taking place around the office. The AirPods definitely came in good use here. I started hands-on-labs through the ServiceNow Now learning portal. I expanded my knowledge on the key terms I heard discussed around me like 'discovery', 'event management', 'service mapping', 'CMDB', and, of course, 'scripting'. Talk about information overload, especially with my familiarity with IT service management and IT asset management. However, one of the things I enjoyed about the company culture at RapDev is while they work hard, they play hard too. Every day after our daily standdown meetings, there was a nice cold beer or a fireball shot waiting for you. (Yes, you read that correctly!)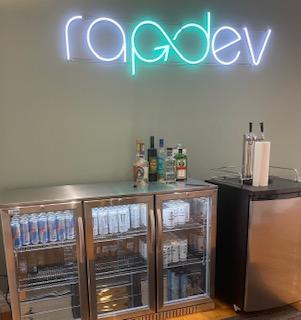 My third week was cut short due to a major snowstorm that came to take over Boston (Booooo) but I was able to shadow one of my coworkers on a project for a client. Even though I didn't know what was going on too much with it; I am excited to be starting my first project next month and help show my contributions to the team. I completed some more training labs and with every new day, I feel more prepared the more I learn. I'm still in the early stages of this job but my team has been supportive and are more than willing to answer my questions or help in whatever I may need. I'm excited to see what happens and how much I grow with the team over the coming months.
Lastly, Boston is a beautiful city and if you have not visit, do it, so much to see and so much to eat!!!